Learn The Basic Information
That You Need To Successfully Market Your Blog!
With the Blog Marketing Basics newsletter in your inbox you will be privy to proven and effective methods that you can use to successfully market your blog and build your business.
Once You Join, You'll Have Access To Basic
Tips And Techniques That You Can Use
To Market Your Blog!
Inside each issue, you will receive easy to understand information that you can use to help you market your blog, build your business and sell more products and services. You will have access to simple facts; tips and information that can help you learn how to effectively promote your blog. So that you can attract more traffic and build a huge following of avid readers that are interested in what you have to say!
The best part is it's absolutely free!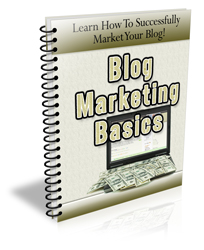 Don't Worry It's Completely Free! And your information will never be sold or shared!